7 Renters Insurance Benefits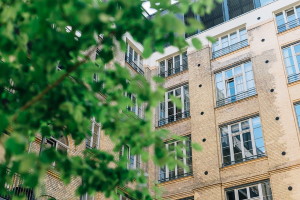 If you're in the market to rent a house, condo or apartment then you've probably come across the term renters insurance once or twice in your search. With rent prices rising, many naïve renters may choose to opt out of an insurance policy to save a few bucks annually. Similarly, some new renters believe their belongings and other such items are covered under their landlords' policy – which is simply untrue. Woodlake Properties has outlined the top 7 renters insurance benefits and why you need to take out a policy before moving into your next apartment.
Benefits to Investing in Renters Insurance
Protect Your Personal Property: A common and cost effective insurance policy will provide the necessary protection to replace your personal belongings in the event of fire, vandalism, flood, etc. Your personal items (electronics, clothing, luggage, etc.) are not covered under your landlord's policy.
Landlord Requirement: Your landlord's insurance policy will cover the housing and exterior, but not the personal property you bring with you. More and more landlords and apartment complexes require renters to provide their own renters insurance, with proof.
Won't Break Your Bank: Renters Insurance rates vary from state to state, but the cost per month greatly justifies the cost to replace all of your valuables. Quickly add up the value of your clothing, electronics and kitchenware and you'll easily get into the thousands of dollars. Renters insurance ranges from $7 – $25 per month, a reasonable rate to protect your possessions.
Extensive Coverage: Many renters insurance policies cover a wide range of tragic, yet realistic, events including theft, fire, floods, liability, injury and more. Be sure to fully understand your range of coverage before signing up and paying your policy.
Worldwide Protection: One of the many renters insurance benefits is it covers your belongings no matter where they are: apartment, car or traveling the world. Be sure to ask your agent what your policy constitutes as "other covered losses" to fully understand this aspect of your policy.
Covers more than your Possessions: Protect your bank account if your current rental property becomes uninhabitable due to natural disaster, flood, fire, etc. Renters insurance can cover the cost of living expenses and temporary residence until you're able to move back into your rental.
Expand your Rental Opportunities: Investing in renters insurance expands your options when looking for rental properties. Instead of limiting yourself to only places without an insurance policy requirement (very limited options) you have the freedom to rent anywhere you choose – within your budget.
Reasons to Invest in an Insurance Policy
When searching apartments for rent in Philadelphia, Bucks County PA or Northern NJ you'll want to make sure you are covered with (at least) a standard, affordable renters insurance policy. Be sure you fully understand what is covered and the amount of money. Lastly, always have proof of renters insurance on you when searching for your new apartment rental.