Guide to Top Neighborhoods to Rent in Philadelphia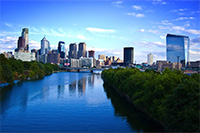 When making the decision to rent in Philadelphia, there are many factors to take into consideration, mainly price point and neighborhood, which always go hand-in-hand. Philadelphia has many subsections, each with its own unique vibe, culture, diversifications and entertainment spots. To help you narrow down your choices, we've put together a list of our favorite districts and what each community has to offer. Listed in no particular order are Woodlake Properties' top 5 neighborhoods to rent in Philadelphia based on median age, restaurants & nightlife, affordability, crime rates and more.
5 Best Neighborhoods to Rent in Philadelphia
Manayunk: This unique neighborhood has made some distinct transitions over the last few years. From blue-collar to an upper-middle class community, Manayunk is currently one of the safest places to rent and boasts a high price tag (average rent is $1,898). Your apartment is in close proximity to dozens of artsy bars, restaurants and boutique shops, especially along Main Street. It is also the youngest neighborhood to rent in Philadelphia, with a median renters age of 27.
South Philadelphia: In our opinion, South Philly is probably the most desirable place to live in the city. It boasts the quiet suburb vibes with all the perks of living in the city. Each street offers a variety of top-rated restaurants and eateries from BYOB Italian to dim sum, upscale Irish bar food, craft beer spots and more!
Fishtown: Both culturally diverse and family-friendly, the Fishtown district is the perfect location for anyone looking for a quiet neighborhood to rent in Philadelphia. However, inventory is very low so when you find an apartment for rent we advise you make an offer on it quickly.
Northern Liberties: Probably one of the fastest growing, "up and coming" neighborhoods in Philadelphia. If you're looking for eclectic and newly renovated apartment buildings, this is the spot for you!
Center City: If you're willing to pay out top-dollar to live in the most desirable neighborhood in Philadelphia, Center City is calling your name. No apartment in the area is listed for less than $2,195, but you'll experience all the best parts of city living. Just a few steps in any direction you'll find the hottest restaurants, trendiest bars, shopping areas and city staples.
Apartment Rentals in Philadelphia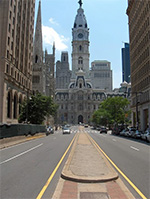 While there are many more amazing, unique and diverse neighborhoods to rent in Philadelphia, the above list was put together based on our independent research and opinions. If you're moving to the area for college, refer to our off campus housing vs. college dorm room guide. As a comprehensive online guide to find apartments for rent, Woodlake Properties has listings throughout Philadelphia, Bucks County, Delaware County and North Jersey. Browse through our website to see available properties and schedule a tour today!